Why Choose Amber Glass As Cosmetic Packaging?
Share
Issue Time

2022/06/21
Summary
Packaging cosmetics in amber glass containers helps protect consumers from ingesting potentially harmful chemicals that other packaging methods may not prevent. Read on to learn about the industry-specific benefits of using amber glass as the container of choice for cosmetic and medical products.
Packaging cosmetics in
amber glass
containers helps protect consumers from ingesting potentially harmful chemicals that other packaging methods may not prevent. The reasons for using specific amber glass jars, bottles, and vials depend on the product they contain. In general, amber glass packaging offers durable construction, light filtering properties, easy sterilization, and innovative decoration and labeling options. Read on to learn about industry-specific benefits and product packaging ideas for using amber glass as the container of choice for beauty products.
Benefits of amber glass in health and cosmetic product packaging
The ability to sanitize health and cosmetic product packaging can reduce exposure to bacteria that could alter the contents. Amber glass containers can withstand the high temperatures needed to properly sanitize materials. Their various sizes, shapes, and protective caps allow you to find an amber glass container for any packaging need or design idea. Amber glass is an invaluable packaging tool used in industries such as medical, cosmetic, and pharmaceutical laboratories. In addition to its protective properties, amber glass containers are aesthetically pleasing packaging that enhances product marketing and sales.
Pharmaceutical laboratory
The natural light filtering properties of amber glass combined with the benefits of borosilicate glass create a logical packaging choice for laboratory materials. Amber borosilicate glass is hydrolysis resistant and helps filter UV and blue light. Use amber borosilicate glass with airtight lids to prevent acids, bases, and other corrosive or light-sensitive laboratory materials from losing strength or changing composition. Borosilicate glass also has a naturally high thermal shock resistance, which helps prevent the container from rupturing when chemicals expand. This is especially useful when quickly heating or cooling chemicals or other laboratory materials.
Herbal and holistic
Products packaged in amber glass pumps make it easier to control essential oil measurements for aromatherapy and other holistic healing treatments. Glass does not absorb oils or odors, helping to preserve the natural aromas of the plants, flowers, and fruits used to make essential oils. Amber glass offers the added benefit of helping the oil retain its color and texture. Packing herbal supplements and vitamins in amber glass bottles with screw caps helps preserve the beneficial nutrients they contain and prevents light absorption.
Skincare
Skincare products packaged in amber glass containers resist discoloration caused by blue light and retain the strength of minerals and vitamins. The small frosted amber glass Boston round bottle with a treatment pump provides convenience to consumers and is a beautiful packaging option for wrinkle and eye serum. The facial scrub and mask are packaged in round amber glass jars with black plastic screw caps lined to protect against moisture that could affect the consistency of the product.
Medication
In addition to pills in Boston round glass bottles with tamper-proof closures, amber glass containers are suitable for a variety of pharmaceutical packaging uses. Use amber glass Blake bottles to package liquid medications as they are chemically inert and leak-proof when properly capped. Medicinal ointments, creams, and balms stored in small straight-sided amber glass jars retain the potency of their amber containers for longer thanks to UV filtering. Amber glass does not absorb or chemically alter the medicines it holds, so it also helps support product purity.
Cosmetic
Cosmetic packaging applications in round amber glass vials are plentiful. Topped with stainless steel or plastic balls and PP caps, uses include lip gloss, fragrance, and in recent years, cream to powder eyeshadow. Using a small amber glass bottle with a disposal pump for concealer can extend its shelf life and possibly prevent the product's ingredients from separating. Get creative and use the black phenolic brush cap with a glass vial to package lipstick or nail polish. The classic look and smooth texture of amber glass cosmetic jars offer limitless options to create a cohesive, eye-catching packaging design.
Amber glass offers obvious benefits for packaging health and cosmetic products, but it's important to remember that the main part of any container has the correct closure. If you want to buy amber glass containers in different sizes, please
contact us
.
Das Packaging is a
custom glass container manufacturer
with 25 years of experience. We can turn your creative ideas into real products, personalized and branded. Our goal is to provide one-stop world-class packaging solutions that exceed your expectations, with service second to none. Our mission is to save our customers time and cost through glass packaging products and services. If you have an idea or a product, we have the packaging.
These amber glass essential oil dropper bottles are ideal for essential oil, aromatherapy, tincture, serum, beard oil, etc.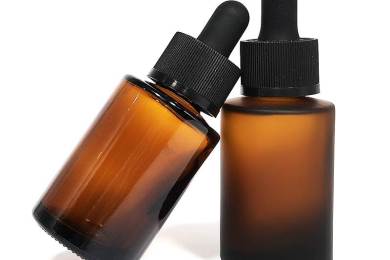 Our 30ml amber cylinder glass dropper bottles are ideal for essential oil, face serum, hair beard oil, e-liquid, etc.